Empowering Women and Girls
For a recent Elle Brasil magazine cover shoot, Canadian-born supermodel Coco Rocha wore a body suit beneath a sheer dress. The body suit, however, was airbrushed out in order to give the impression that more skin was shown. In response, Rocha expressed her anger on her blog, stating her disappointment with how her contract was ignored.
Girl Model
, a 2011 documentary film, explores the fashion and modeling industries and their exploitation of young models around the world. The film is told through the perspectives of recruiters and a 13-year-old aspiring model.
Sandra Fluke, a Georgetown University law student, was called a "slut" and "prostitute" by Rush Limbaugh for her views on mandating insurance for contraceptives in February. Since then, Fluke has been the subject of a national political firestorm, yet she continues to stand up for her views and refuses to be silenced. In an interview with Marie Claire, she states, "…it's clear to me from the events that have transpired since then that women are not going to be silenced."
Miss Representation
, a 2011 American documentary film, examines the under-representation of women by mainstream media. In Miss Representation, the stories of teenage girls and interviews with public figures compile new perspectives on women and girls around the world.
You can take action by writing a letter to the Op-Ed of your local newspaper to voice your opinion, becoming a rep for Miss Representation and sharing your story by posting on theirblog and/or creating a Youtube clip to empower women and young girls around the world.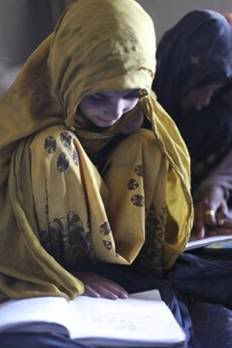 Under the Taliban, many U.S. – funded schools have been closed, resulting in the deterioration of female education in Afghanistan. Eager to have an education, many Afghan girls defy the Taliban by attending underground schools to learn religion, math, reading and writing. The schools are oftentimes led by literate men in villages like Spina.
Love Crimes in Kabul
, a 2011 documentary film, follows three young women inmates held in Kabul's Badam Bagh women's prison for "moral crimes" and examines the roles women can play in society. The three women are accused of premarital sex, running away from home, and adultery.